Download for free
* The latest version of IPEVO Annotator is now available
A picture is worth a thousand words. We know it and educators know it, and that's why we created IPEVO Annotator.
IPEVO Annotator is a simple and intuitive screen annotation, recording, image capturing and editing software that is a perfect match for the IS-01 and IW2 Interactive Whiteboard Systems. It can also be used in combination with many other third-party software applications. When either the IS-01 or IW2 is paired with Annotator, you can easily draw and annotate on images projected onto the screen just like a regular whiteboard marker, regardless of the applications running in the background. With Annotator, you can maximize your creativity and fully utilize the potential of your interactive whiteboard.
* The latest version of IPEVO Annotator is now available. It is compatible with Mac OS X 10.8 or higher, and Microsoft Windows 10, 8, 7 or Vista.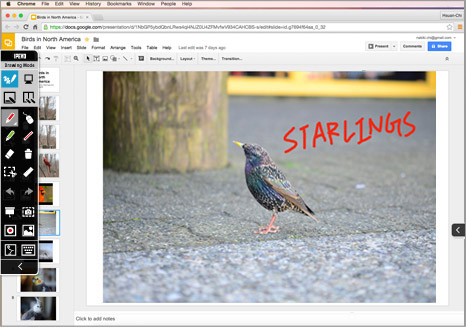 Get Started Immediately
No Time Wasted
With its simple, easy-to-understand tools, no one will have any problem using the IPEVO Annotator – not even young students. Anyone can start enjoying the fun and excitement of drawing and annotating onscreen in just 3 simple steps. First, tap (with the IS-01 or IW2 Interactive Pen) or click (using your mouse) on the Annotator icon to start it up. Then, tap or click on the Drawing Mode icon. Lastly, choose the color and size of your brush pen. That's all there is to it!
Intuitive Design
Ideas Become Reality Faster
With IPEVO Annotator, your ideas become reality faster. The software is intuitively designed to allow you to get your points across using annotations, sketches, shapes and videos created with simple tools.
Need to clarify still images or videos being shown on screen? Draw, annotate or write on them by choosing the Brush Pen icons.
Missing an oval or rectangle for your geometry lesson? Quickly choose from the range of basic shapes available.
Various colors, thicknesses and effects of brush pens as well as basic shapes are also available right at your fingertips. You can even highlight important parts of a text shown on screen by using the translucent brush pen effect!
Ready to have your students demonstrate their math skills? Click on the Whiteboard icon to turn your screen into a blank "whiteboard." Write equations or word problems on the "whiteboard" and watch as your students compete and collaborate. Multiple "whiteboards" are supported, too.
Need to do quick "before and after" comparisons for the same material, with and without annotations? Switch to Desktop Mode where the annotation features of Annotator are set to hidden. Onscreen annotations you've done in Drawing Mode will not show up. You can then control your computer and applications as normal. Your annotations will appear onscreen again when you switch back to Drawing Mode.
After you're done with all your annotations, take a snapshot of your annotated contents and save them for future reference. You can even choose to save all of your current screen or just part of it.
Updates to IPEVO Annotator
Great news for all, the latest version of IPEVO Annotator is now available! And in this upgraded version, we have added more handy features to better enhance your Annotator's experience.
Multi-Pen Mode Now Supported!
Multi-Pen mode is now supported by Annotator when using with IW2 Wireless Interactive Whiteboard System, enabling up to four users to work together on the projected whiteboard surface! Write, draw, and annotate on content at the same time for a truly collaborative learning environment, increased engagement, and better interactivity. To use the multi-pen function, please download and install the latest version of the IW Driver and IPEVO Annotator HERE. You'll also need more Interactive Pens, so check out our IP-1 Interactive Pen (for IW Series Interactive Whiteboard System), which is designed for this purpose.
*Note: Multi-pen functionality is only available for IW2. It is not supported on IS-01.
How Does Multi-Pen Work?
The multi-pen function is only available when you choose Multi-Pen Mode in the latest version of Annotator. In this mode, you can choose from two, three or four whiteboard frames, and invite the corresponding number of users up to the projected whiteboard surface to work on the respective frames simultaneously. In addition, there's a Copy function that allows you to easily copy the content in the (top) left frame and paste it to all the other available frames.
Import a short passage with common mistakes into the top left frame. Then copy the passage to the other frames and watch up to four students honing their English skills. Or pull out a map of US states, and challenge them to a map quiz.
You can also divide students into groups, and hold a friendly math competition. Otherwise, simply use the multi frames as blank canvas for your students to unleash their inner artists. Each frame comes with an individual tool panel for color selection and more.
And revealing the correct answers for quizzes and questions is easy and pretty magical with the Upper Layer function in Multi-Pen Mode. Just "pre-write" the answers on the upper layer and watch as the answers "wipe" into place with a single tap (click). In addition, tools such as Compass, Ruler and Protractor are also available in Upper Layer to assist you with modeling answers for geometry quizzes.
So wait no further and make your lessons even more interactive with the multi-pen function of IPEVO IW2 and IPEVO Annotator.
More Colors, More Effects, More Tools, More Fun
We have also brushed up the user interface of Annotator to make it even simpler and intuitive for all to use. And more color choices and brush pen effects have been added to increase the fun.
Engage your students and excite them for lessons using the Disappearing Ink. Grab the class attention by writing and explaining the hidden or assumed conventions in mathematical equations and watch as they fade away. Or use it to make the invisible ocean currents "visible", and then invisible again. Put your students' speed and wits to the test by writing different answers to a question, and watch them ponder over the disappearing answers. Or use it as a Timer by writing the numbers from 10 to 1 on the screen and tell your students that they have until the numbers disappear to settle down, take out their books, or whatever. It works, and it's fun!
More help is provided for your math class with the addition of tools like a Compass, a Protractor and a Ruler. You can use the Ruler and Compass to show students the steps to draw circles with different radius.
Project any polygon onto the screen. Help your students understand the concepts of angles and angle measurement by using the Protractor to measure the angles. Or simply use the Ruler to measure any lines for teaching line measurements.
New Annotator file format
In addition to the JPG and PDF formats available for saving your "whiteboards", the latest version of IPEVO Annotator offers an additional option of an Annotator file format - .ima (for Mac) and .iwa (for Windows). This option allows you to save your uncompleted "whiteboards" as annotator files and continue to work on them the next time you use Annotator.
Annotate onto the Live Feed with an IPEVO Document Camera
Take Your Interactive Presentations Even Further
In addition to using IPEVO Annotator with IS-01 or IW2, you can take your interactive presentations even further by adding one of our IPEVO document cameras to your setup. With an IPEVO doc cam, you can capture real-time video or take snapshots for documents, textbooks, artwork, 3D objects or anything else. And by selecting the IPEVO doc cam icon in IPEVO Annotator, you can now use your connected IPEVO doc cam's live feed as your screen's background. Start drawing and annotating directly onto the live feed, or capture a snapshot or video using your IPEVO doc cam and then draw or annotate on those images using Annotator. Enrich your presentations like never before!
Screen Recording
Never Miss a Single Step
Ever thought about recording real-time video while you draw or annotate on your screen? Annotator can help you do it. Or how about making a tutorial video to guide your audience through a project step by step? Annotator can easily help you achieve it without any complicated setups. With the screen recording function, recording all your onscreen activities is as easy as a tap (or click). Audio recording is also supported. You'll never miss a step again.
Easy Image Management
Keep Your Images Handy
Any snapshot taken using IPEVO Annotator will be automatically saved with the date and time in its file name. By selecting the Review icon, you can view and manage saved images. You can also choose to export these images to your desktop or "whiteboard" for annotations, or you can drag and drop these images to your desktop or to a designated folder for saving and renaming. Image retrieval and management are straightforward and intuitive with Annotator.
Absolutely Free for Everyone
A Free, Full-featured Software
IPEVO understands the tough decisions educators make in the face of tight school budgets. More often than not, it's an "either/or" choice when it comes to classroom technology. But we believe this should not be the case. At IPEVO, we stand by our mission to deliver affordable teaching technology so no student is left out. In that spirit, the full version of IPEVO Annotator is absolutely FREE for anyone to download. No catches, and no hidden costs. A working computer and a working mouse are all you need to start using IPEVO Annotator as your standalone screen annotator software. Take lessons, business meetings, and much more to a whole new level at no cost.
8 Awesome Function Groups
For a quick reference guide, we had all the standard features of IPEVO Annotator summed up in the following table.
Function Groups
Icons
What They Do
Settings Changing

Rounded Corner Arrow
Hide Toolbar
Computer
Pen
Whiteboard
Multi-Pen

Rounded Corner Arrow icon changes the default view of Annotator
Hide Toolbar icon hides Annotator's toolbar
Computer icon changes Annotator to Desktop Mode which hides the annotation features
Pen icon changes Annotator to Drawing Mode which allows drawing and annotating
Whiteboard icon allows toggling between your screen and "whiteboards"

New!

Annotator file format available. Allows you to save and to continue work on uncompleted "whiteboards"

New!

Enables up to four users to work simultaneously

Drawing and
Annotating

Brush Pen
Basic Shapes
Measurement Tools

Brush Pen icons allow drawing or annotating

New!

Choose a Fountain Pen or Disappearing Ink for more fun
Basic Shapes icon lets you draw basic shapes such as rectangles or ovals

New!

Compass tool available. Enables you to draw circles of specific radius

New!

Ruler and Protractor tools available for measuring lines and angles

Editing

Eraser
Trash
Scissors
Undo
Redo

Eraser icon allows selective erasing of drawings or annotations
Trash icon clears all drawings and annotations at once
Scissors icon duplicates selected drawings and/or annotations for use on your screen or "whiteboard"
Undo icon steps one step backward in your annotation changes
Redo icon steps one step forward in your annotation changes

Image Capturing

Screen Capture

Full Screen
Select Area

Take a snapshot of your entire screen
Saves part of your current screen as an image

IPEVO doc cam icon lets you use your connected IPEVO doc cam's live feed as the background for drawings and annotations

Screen Recording

Screen Recording icon can record all onscreen activities

Screen Shade

Screen Shade icon allows highlighting of important sections on the screen while darkening the rest to focus the attention of your audience

Image Reviewing

Review icon lets you view and manage images captured using Annotator

Mouse / Keyboard

Mouse icon allows normal control of other applications while your drawings/annotations still appear on screen
Keyboard icon brings up a full keyboard to allow the inputting of text using the Interactive Pen
All in all, IPEVO Annotator is a useful tool for educators to design engaging and interactive lessons, and for presenters to effectively communicate and share ideas during live presentations. Don't delay – start exploring Annotator today!
For the User Guide on IPEVO Annotator, please click HERE.